19. DAG

Citat fra:
Saints and Their Cults
Stephen Wilson (ed.) (Cambridge University Press, 1983)
"Towards a sociological study of canonized sainthood in the Catholic Church" by Pierre Delooz.
P.194:
The whole process of beatification and canonization, throughout its historical evolution, has depended on memories that people have retained of the past.
ARKIV: HIMMEL & HAV/ SKY & SEA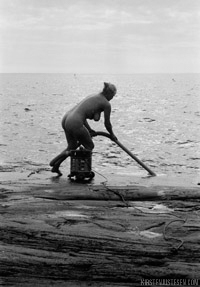 "Hav Frue", Sveaborg, 1990
DAGENS GENSTAND: BOG/BOOK

BOG:
TRANGT OG RYTMISK EL­SKELIGT OG UOVERKOMMELIGT TUNGT OG ROMANTISK STORT OG JU­BLENDE INTELLEKTUELT OG MÆRKELIGT NYT OG MANGFOLDIGT SMUKT OG STØJENDE PRAGTFULDT OG LATENT UKENDT OG RIGTIGT SKØNSOMT OG BEGEJSTRET SKØRT OG VELORDNET GODT OG SJÆLDENT SÆRLIGT OG FRYGTINDGYDENDE SYMBOLSK OG STRÅLENDE KULTISK OG MAGISK FORNEMT OG UDFØRLIGT SYNSK OG VIIST FOLKELIGT OG DRISTIGT INTELLIGENT OG INTUITIVT STÆRKT OG VÆR­D­IGT ENESTÅENDE OG KLOGT ÆLDST OG VÆSENTLIGST MØRKT OG NØGENT GRUNDIGT OG SÆRPRÆGET TUNGT, VÅDT OG TURKIST
UDSTILLING / AFTRYK/ KONCERT: